Winner of the 2016 Indie Music Channel "Best Female Emerging Artist of the Year"
I am happy to finally be emerging! Though that is tongue in cheek, I am very honored to be getting recognized in the music field. I have been singing since I could walk, at least that is how I remember it. I started writing some pretty bad stuff by about 7 years old, but my wonderful parents never said I should give it up. They put a guitar in my hands along with some music lessons and encouraged me every step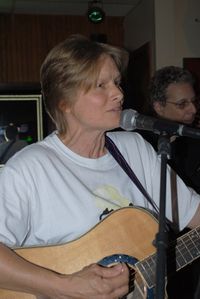 of the way. Eventually I started writing songs that some people want to hear.
Some is country, some more like easy listening. The Truck Driving Mama CD is all about country music and trucking; songs of the heart. To check out the Truck Driving Mama music video, nominated for IMC Best Country Music Video click here.

Always With You CD is more inward, pensive and soothing, focusing on everything's interconnectedness with everything else. 

To hear clips of the songs and to purchase them for download or CD's click here.